Contribution:
 Environmental Design, Way-finding Design, Fabrication Design Intents, Partnered with Fabrication Vendor, Organized Field Installation
Situation

As part of its expansion strategy, First Reliance Bank aimed to establish a significant presence in Columbia, SC. They acquired space in a prominent downtown building, previously known as the Bank of America building.
Challenge
This space had been dormant for years, with outdated interiors and a lack of modern amenities. The bank needed to transform this old, unused space into a state-of-the-art bank branch that would serve as a testament to its growth and commitment to the Columbia community.

​​​​​​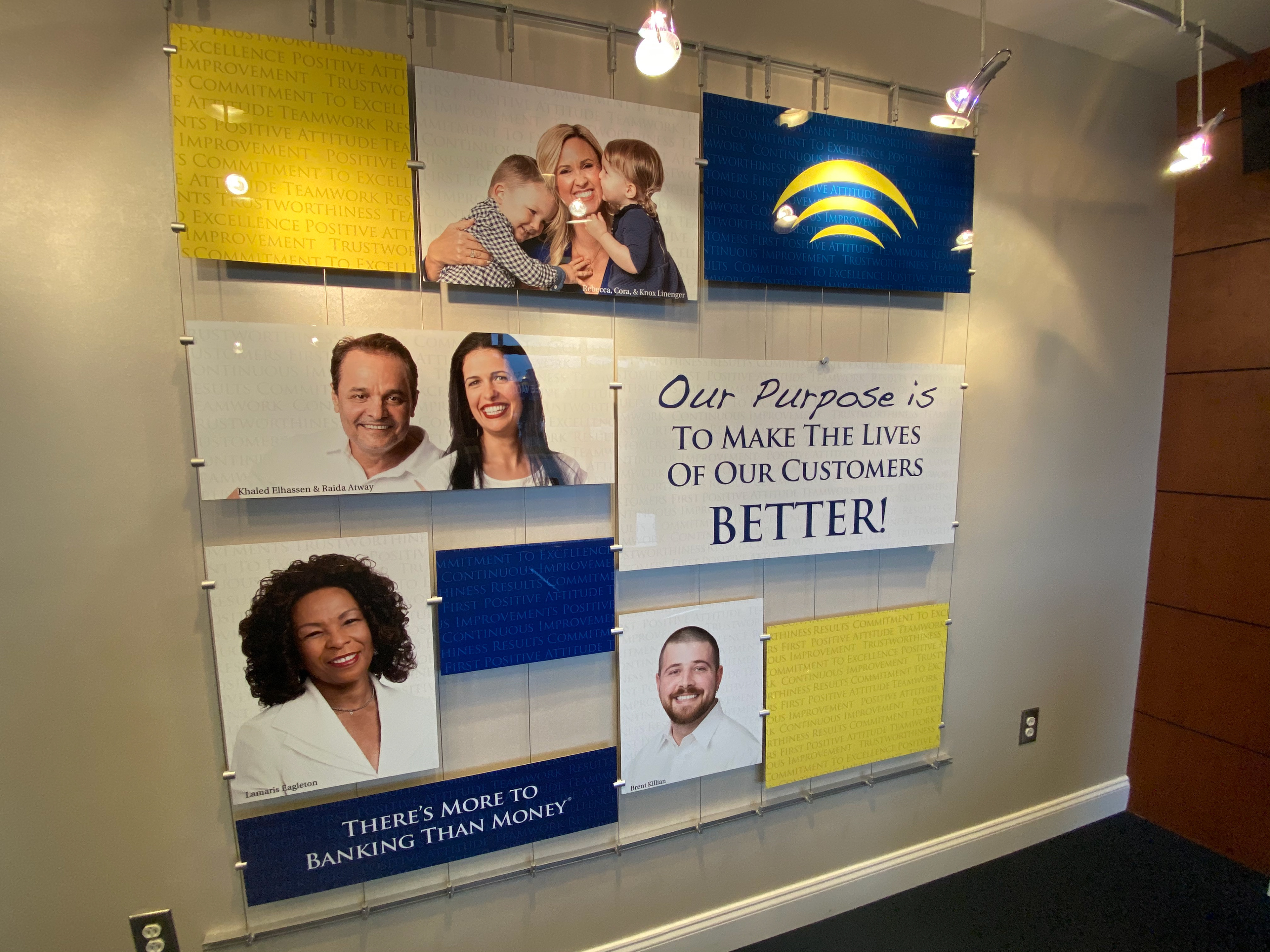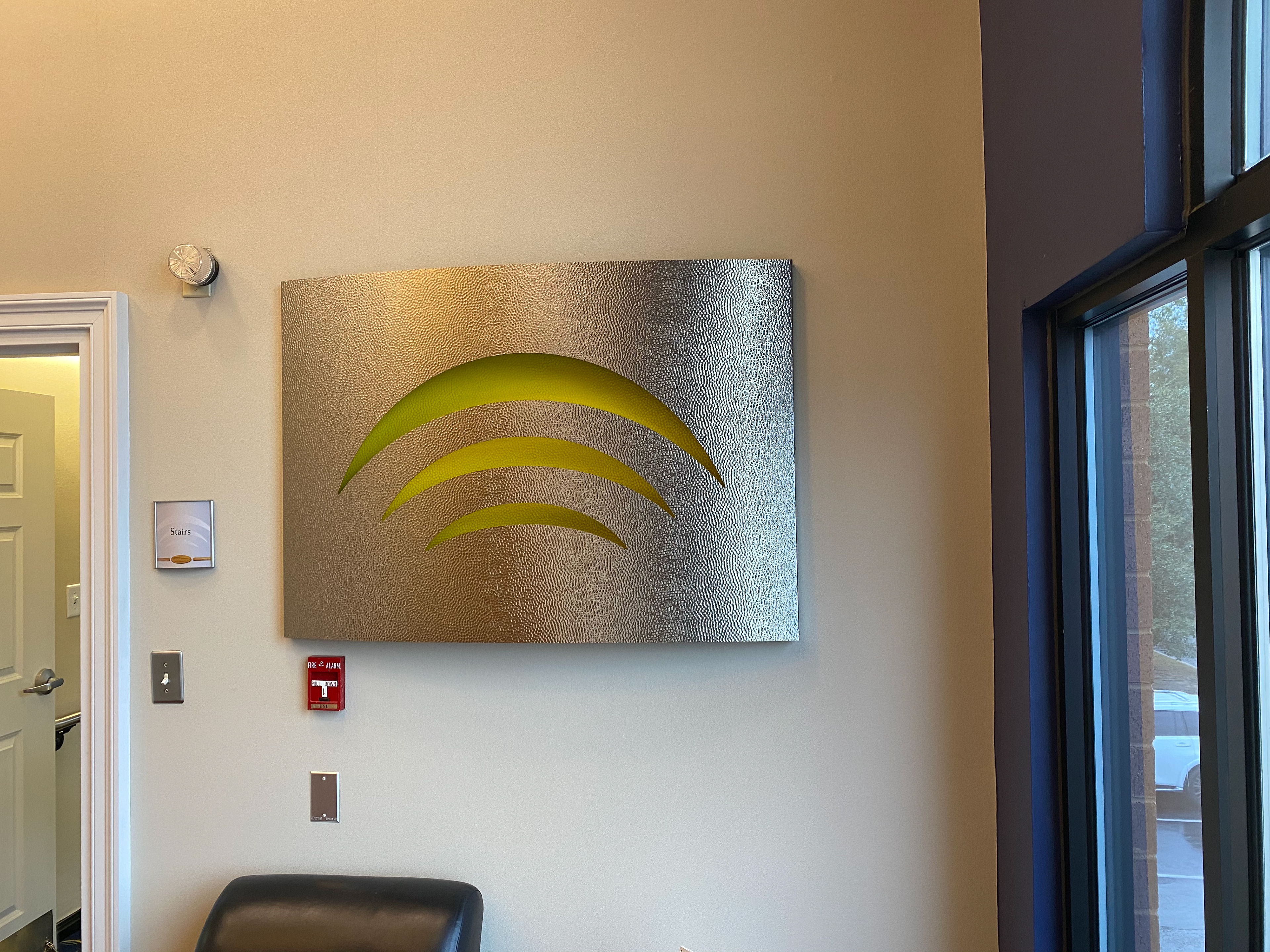 Revitalizing a Landmark
The goal was to breathe new life into the space, merging the bank's brand identity with modern design elements, while paying homage to the building's historical significance.
Design Vision
Conceptualized a design that would seamlessly blend First Reliance Bank's brand colors and ethos with contemporary aesthetics.
Graphics Creation
Designed impactful graphics that would adorn the interiors, ensuring that visitors would immediately identify with the bank's brand upon entry.
Space Transformation

With the combined efforts of all vendors and the clear design vision, the transformation process was set in motion, turning the old space into a modern bank branch.
Vendor Coordination
Collaborated with external vendors for various tasks, including:
Signage Fabrication: Worked with Tyson Signs to ensure the brand graphics were produced to the highest quality.
Interior Designers: To modernize the space, ensuring it was both functional for banking operations and welcoming for clients.
Painting: Tasked with refreshing the walls, bringing vibrancy and warmth to the once dormant space.
Lighting: Engaged lighting experts to enhance the ambiance of the room, ensuring it was both functional for learning and warm for welcoming.
Artwork Fabrication: Partnered fabricator to produce custom artwork pieces on affordable aluminum that resonated with the bank's brand story.
Through a meticulous blend of modern design, brand-centric graphics, and a nod to the building's historical significance, First Reliance Bank successfully revitalized a dormant space, establishing a vibrant and state-of-the-art headquarters in Columbia, SC.
Modern Banking Experience
The once dormant space was transformed into a state-of-the-art bank branch, offering clients a modern banking experience in the heart of Columbia.
Brand Resonance
The interiors, adorned with carefully designed graphics and artwork, resonated strongly with First Reliance Bank's brand identity.
Historical Significance
While the space was modernized, the transformation paid respect to the building's history, ensuring that its legacy was preserved.
Community Reception
The new branch was well-received by the Columbia community, serving as a testament to First Reliance Bank's commitment to growth and community engagement.
Credits:
ESD: Lead Firm, Architecture, Fabrication
Tyson Sign Company: Fabrication